Jayme Knutson, PhD, is even keeled and analytical as he describes his research as an FES investigator — until he reaches the topic of translating his work to a device that will be commercially available.
At that point, Knutson's eyes light up and he leans forward.
"When you see it, you're going to say, 'Wow,'" he says, dragging out the last word for emphasis. "Anyone who knows about design is going to say, 'Holy cow.'"
The excitement about the way the device looks belies the importance of what it will do. Knutson's research is directed at developing new therapies so stroke survivors can regain use of a hand. But Knutson's words also illustrate the importance, the goal, of translating research from the lab to the community, from study to therapy.
Translational research is a vital part of the work being done by and through the FES Center, which facilitates and propels neuromodulation research via a consortium of five nationally recognized institutions: the Louis Stokes Cleveland VA Medical Center, Case Western Reserve University, MetroHealth Medical Center, University Hospitals, and Cleveland Clinic Neurological Institute.
Researchers, engineers and clinicians collaborate within the FES Center to develop innovative solutions that improve the quality of life of individuals with neurological or other musculoskeletal impairments. By using neurostimulation and neuromodulation research and applications (functional electrical stimulation), investigators vigorously seek solutions in a culture of collaboration and support.
Translational research is the step that takes the research to the clinical environment. It takes proven ideas discovered through years of study to companies and businesses that can manufacture a device, and make them available to patients in need.
It turns discovery into ways to improve lives.
From the lab to the market
Andrew Cornwell, PhD is responsible for coordinating the translational research efforts within the FES Center. As the Director of Industrial and Strategic Collaborations, Cornwell is the primary contact in pursuing and managing relationships with industrial partners interested in and willing to manufacture devices, and with other academic centers interested in working with FES investigators.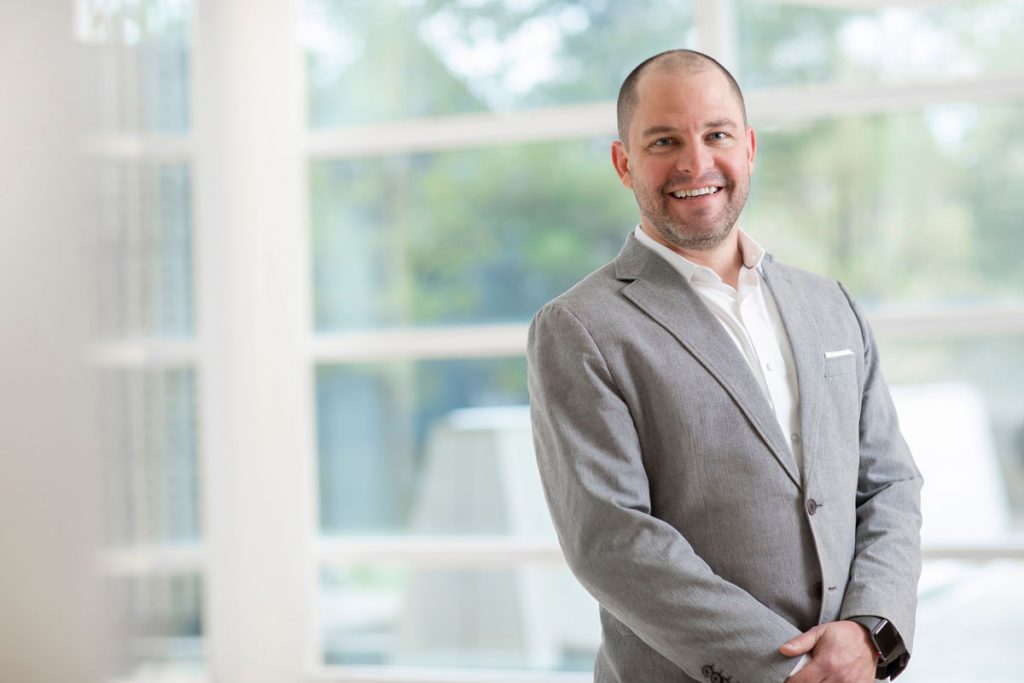 "Most of my job," Cornwell, says, "is helping researchers understand how people view their research, and what they can do to make their work more attractive to outside investment.
"Research can't help if we can't commercialize it."
Cornwell, also the Associate Director of the Case-Coulter Translational Research Partnership (CCTRP) between CWRU and the Wallace H. Coulter Foundation, made the move from the lab to translational research because he recognized the challenge for a scientist trying to navigate corporate America.
"I think I can help more people by smoothing out the process," he says.
With Knutson's work, the commercialization means allowing those with impaired hand function after stroke to use an electrical device in therapy to regain use of their hand.
"The brain has an amazing capacity to reallocate neurons to lost function," Knutson says. "If the therapy is clever, it can sort of coax the brain into recovering. What we're trying to do is help the brain recover."
Knutson's device works through contralaterally controlled functional electrical stimulation (CCFES). The patient wears a glove on their good hand. The glove has sensors that are connected to an electrical stimulator. The stimulator has other sensors that are placed on the weak hand. During therapy, when the patient opens the good hand the electrical stimulation opens the weak hand. In time and with continued therapy, the brain re-teaches the weak hand to open, and to gain function.
Synapse Biomedical, a company founded in 2002 in Oberlin, Ohio, Synapse licensed the technology developed from Knutson's research in 2019, and has been working to refine the device.
"What we had was really a research grade device," Knutson says. "It was not as streamlined and user friendly as it needs to be for a final product, a commercial device.
"They're doing a great job."
FDA approval awaits, thought Knutson — the Associate Director of Movement Restoration at FES, a Senior Staff Scientist and Director of Research at MetroHealth Center for Rehabilitation Research, and a Biomedical Engineer at the Louis Stokes Cleveland VA Medical Center — does not envision that being difficult. He has done the studies that show it works, therapists who have seen the device at a presentation or on video ask for it, and the device is not implanted.
"I'm hopeful that the device is going to be available in the next two years," Knutson says. "Synapse has worldwide distribution. They have operations in Asia and Europe and the United States. I think they're really determined to get that out there on the market."
Cornwell says businesses are the experts in the commercial space. His communication involves finding a fit and presenting the research. If the company's answer is not immediately positive, Cornwell simply asks: "What would you like to see?" and brings that information back to the researchers.
The emphasis is not sales, but on making sure research results are directed in the best ways possible to beneficial devices or innovations that companies can and will make and sell – with the goal to help those in need.
Pathways to pain relief
Cornwell is working at different and varying stages of translation with several FES investigators. Dominique Durand, PhD, is researching three projects: an epilepsy program, a device for obstructive sleep apnea, and using neural signatures to predict cancer growth. Tina Vrabec, PhD, Niloy Bhadra, MD, PhD, and Kevin Kilgore, PhD are working on developing an electrical device that attaches to a specific nerve to block pain. And Dennis Bourbeau, PhD and Kenneth Gustafson, PhD, are collaborating on developing a device to control the bladder.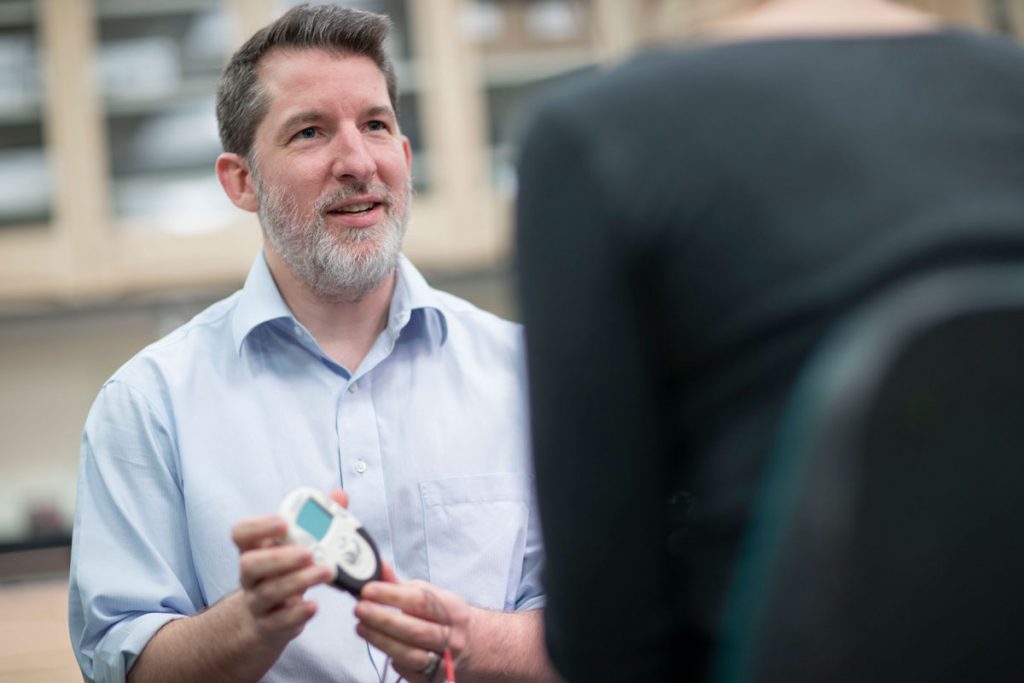 "Andy has been very helpful to a lot of us," Bourbeau says. "He's working to get us to think about industry partnerships, which we can leverage to get our stuff out there in the world. He's very much walking the walk."
Bourbeau calls Cornwell a "peer mentor."
"I could do the science bit," Bourbeau says. "I could do the engineering bit. I needed to learn how to do the translational work. This may sound harsh, but without commercializing our research it won't translate to clinical practice and community health outcomes."
Cornwell's work includes helping the FES Center connect and interface with The VA-TEAM, a first-year program of the Veterans Affairs.
Veterans Affairs Translational Education and Mentoring (VA-TEAM) Center works to increase translational awareness and knowledge within the VA research community. The effort moves VA-funded research toward commercial activity, and helps researchers consider the importance and challenges of translation as they continue research.
The 24-week training program is divided into two phases, and consists of in-person events, weekly teleconferences, lectures and coursework. Sixteen teams will be selected for the first phase, which focuses on identifying markets and conducting customer and stakeholder interviews. Eight teams will be selected to Phase 2, which is about mentoring and management and will deal with commercialization planning support, intellectual property strategy, risk assessment, and preparing pitches to investors and/or partners.
The program will conclude with a two-day event in Washington, D.C., where teams will pitch concepts to key VA officials.
Cornwell also works closely with the Cleveland NeuroDesign Innovative Fellowship, a 10-month educational opportunity at Cleveland Clinic and Case Western Reserve University that develops trained experts who can bring clinically-impactful products to the market.
The fellowship fosters collaborations between clinicians and engineers on translational research projects to improve patient care. The first group of four fellows ran from September of 2020 through may of 2021, with three building a medical device startup based on the prevention of hospital-acquired infection.
The process goes through six stages toward completion, and includes finding, screening, concept generation, concept screening, strategy development and concludes with business planning.
Cornwell calls it a "constellation of activities" under the FES umbrella. That very specific word is key, because FES investigators shoot for the stars.