The Cyclical Lower-extremity Exercise (CYCLE) Trial for Parkinson's disease
The primary aim of this project is to determine if long-term, high intensity aerobic exercise alters disease progression in individuals with Parkinson's Disease.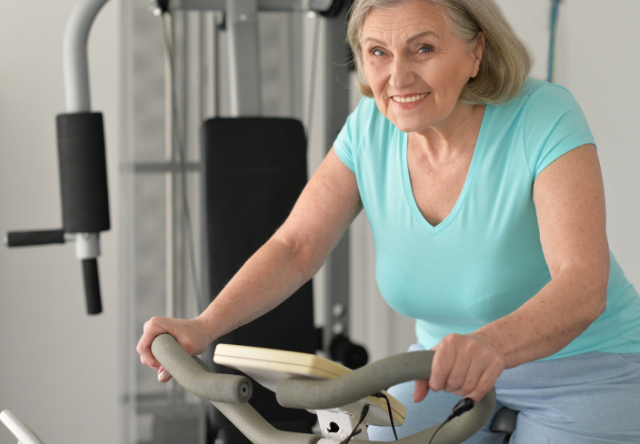 About This Study
Identification of an effective disease-modifying intervention (e.g. pharmaceutical, surgical or behavioral) is an unmet need in Parkinson's disease (PD). Increasing evidence indicates high intensity aerobic exercise is a candidate to alter PD progression.
Combining clinical and biomechanical measures of motor and cognitive performance will accelerate the investigation and understanding of potential mechanisms underlying the positive effects of exercise on disease progression. Exercise performance data including heart rate, cadence and power from each session will be gathered to monitor exercise compliance and build an exercise response predictive model. The model will facilitate a transition from general recommendation to a patient-specific exercise prescription in which potential outcomes can be estimated.
Study Information
Individuals with PD will be randomized into 1) a home-based aerobic exercise program, or 2) a usual and customary care (UCC). Subjects in the home exercise group will receive an indoor stationary bicycle delivered to their home for a 12 month exercise period. Individuals in the UCC group will continue their current level of physical activity. Motor and non-motor assessments will be conducted at the main campus of the Cleveland Clinic or the University of Utah at enrollment, 6 months, and 12 months. Each assessment will last approximately one hour.
Detailed program information and criteria available at: https://clinicaltrials.gov/ct2/show/NCT04000360?term=cycle&cond=parkinsons&cntry=US&state=US%3AOH&city=Cleveland&draw=2&rank=2
Principal Investigator: Jay Alberts, PhD
Program Contacts
Program Contact: Elizabeth Jansen, MPH
Contact Number: (216) 445-3866
Contact Email: jansena@ccf.org
Program Contact: Anson Rosenfeldt, DPT
Contact Number: (216) 445-3277
Contact Email: rosenfa2@ccdf.org
---
Contact Request
Researchers rely on individuals to serve as volunteers for program studies. Each study is designed to answer questions about a specific medical aspect or the effectiveness of a particular treatment. Through the commitment of research volunteers, knowledge gained and communicated to other medical professionals ultimately benefits the community.
If you would like more information about becoming a research volunteer please submit the information below.